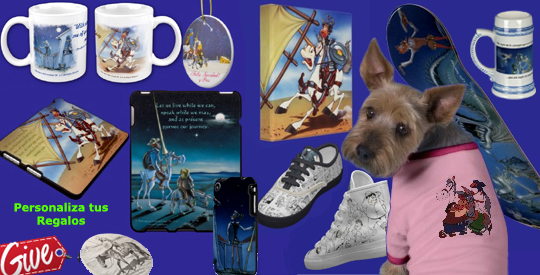 Visita QUIXOTEdotTV - LA TIENDA del IV CENTENARIO
USA | UK €/Ł | Canada | Australia | New Zealand |Germany
Espańa | Brazil | Portugal | France | Japan | Sweden
DON QUIXOTE OF LA MANCHA
CHAPTER IV
"The Adventure of the Windmills"
(SYNOPSIS)

The hound dog wakes Don Quixote up hoping that he will play with him. During the game, the nobleman's sleeping cap falls off and lands on the dog's head, giving him a most amusing appearance. Don Quixote laughs heartily, then gets out of bed and accompanies his faithful companion downstairs, where he looks in vain for his library. The dog tries to show him that his library is still there, but finally, the housekeeper and niece tell him that the Sage Freston, mounted on a serpent, has carried off all of his books and even the library. Don Quixote is not too surprised at this news, and answers that Freston is his sworn enemy.
The niece begs her uncle to remain at home and to forget all about the adventures of knighthood, as nothing good can possibly come from such.
Don Quixote remains at home for fifteen days, very calmly, spending a lot of time talking about knight-errantry with the curate and the barber, and also with Sancho whom he convinces to become his squire, promising him the reward of making him governor of an island, which he, Don Quixote, will win in combat.
Then, one night, Sancho and Don Quixote meet secretely and, without taking leave of anyone, neither Don Quixote of his niece and housekeeper nor Sancho of his wife Teresita Panza nor of his daughter Sanchica, they steal off before the sun comes up and take to the road...
When dawn breaks, they are so far from their village that no-one can catch up with them.
Later on in the day, they see some windmills with arms turning in the wind. Don Quixote takes them to be a group of outrageous giants whom he must lay low in combat ,. as such would be a great service to mankind, stripping the earth of such bad seeds.
Sancho informs his master of his error but Don Quixote spurs his nag and attacks the imaginary enemies. The collision with the arms of the first windmill is terrible: both horse and horseman fly through the air, coming out badly battered.
When Sancho reminds Don Quixote that the windmills were not really giants, our noble gentleman replies that it was the Sage Freston Who, through art of magic, turned the giants into windmills at the precise moment he attacked, in order to rob him of the glory of defeating them.
After recovering from the adventure with the windmills, Don Quixote and Sancho continue along the road towards Puerto Lapice...

Webmaster: Santiago Romagosa - ,Productor largos "Don Quijote I & II", Comisario Exposición "Cervantes Encantado" y Director Gral.de la Sociedad Romagosa International Merchandising, S.L. ©-Romagosa International Merchandising, S.L -Todos los Derechos Reservados